BNMR: DAQ Hardware Connections
Jump to navigation
Jump to search
Links
Introduction
The connections between the various DAQ modules in the VME crate are shown here.
NIMIO32
The NIMIO32 modules using in BNMR and BNQR experiments have been modified to provide the BNMR: Helicity readback required by the DAQ. Click thumbnail to enlarge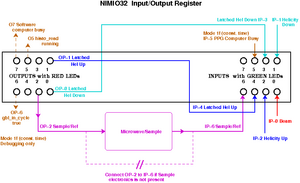 Modifications to the NIMIO32 Modules for Helicity Readback
The NIMIO32 modules have been modified to provide a latched helicity readback required to obtain the correct value of the helicity in BNMR Dual Channel Mode. The value required is the helicity value at the time this channel had the beam. The DAQ cannot read the helicity at this moment, since the timing is controlled by the PPG. Therefore the value must be latched until the DAQ can read it (i.e. when the PPG cycle is finished).
Figure 1

Modifications to the NIMIO32 for Helicity Latched Readback
Click a thumbnail to enlarge